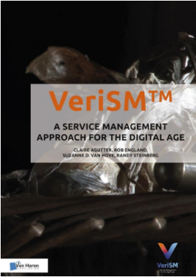 VeriSM- What's the Cover Story?
There has been a global debate and acknowledgement of the value of the VeriSM concept since it's launch late last year, not only in the IT service management community but in the wider business and educational world which for everyone involved from author to employer, trainer to student is really exciting.
The embracing of a more flexible way to utilise the very best of ITSM frameworks, practices and concepts in an organisation to deliver the best outcomes for the customer and business has struck a chord worldwide.
There have been presentations and events in numerous countries, training sessions and the awarding of VeriSM foundation certificates from Brazil to India. There is such positivity in the air.
But one question frequently asked since the launch of the VeriSM book is an interesting one to answer as it seems to bear little relation to the words written in the publication, this question is "What is the image on the cover of the book?"
The image is a small section of a still life photograph which pictures a visually stimulating, plentiful and abundant feast of food. There are many different components to eat on this table from the everyday items to more exotic foods likely to only be enjoyed on a special occasion.
This type of imagery and art became popular from the early 19th century and was associated with detailed and elaborate arrangements with hidden depth and meaning. A historically significant style which is still used to this day but with a more modern composition.
The Verism cover depicts the feathers of the swan which is at the back of the main picture, at odds with its surroundings. Swans are a symbol of love and grace in Greek and Roman mythology but are also a strong and powerful bird.
Viewed in isolation, the feathers are a small part of a much bigger picture. That is part of the message of the book and VeriSM.
VeriSM using a tailored approach, the flexible management mesh built from an organisations own governance and the building blocks help the user not only see the bigger picture but also blend multiple elements to get the best result, just like the image.
It respects the past and embraces the future, not a revolution but an evolution.
Forthcoming publications in the VeriSM-series will also show a detail from this still life picture on their cover.
201802-VanHaren Publishing – Ivo van Haren